10 most expensive cars sold at Auction
Do you think a Bugatti Chiron is expensive? Wait till you read about the most expensive cars to be sold at auction.
Who said cars always depreciate in value? Like the finest of art, some cars actually become more valuable with each passing year. Then again, the cars in question aren't your run of the mill, mass-produced city runabouts. The cars that trade hands for millions of dollars are usually limited-run or even one-offs with a chequered history to boot. Welcome to the world of the auction classics. Prepare for your jaw to drop.
1955 Jaguar D-Type
Sold by RM Sotheby's for Rs 151.27 crore ($21,780,000), August 2011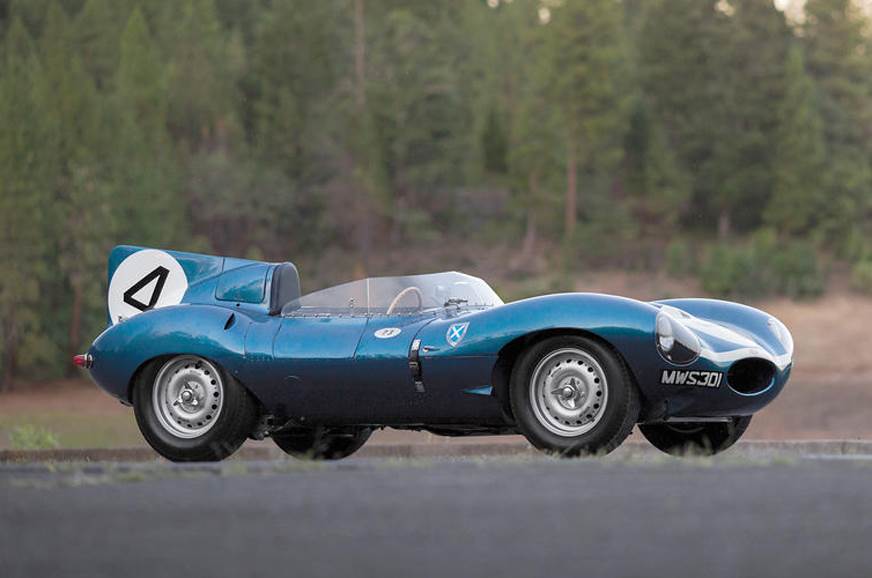 With a Le Mans 24 Hours win under its belt (in 1956), XKD 501 is the only Le Mans-winning C- or D-Type to survive intact in its original form. It's also the first team-series production D-Type and the first to be designated by its chassis as a D-Type.
1935 Duesenberg SSJ
Sold by Gooding & Co. for Rs 152.80 crore ($22,000,000), August 2018
This 1935 Duesenberg SSJ was first owned by the film star Gary Cooper. This car features a straight-eight engine with output of 400 hp – an extraordinary figure at the time. Its auction in 2018 made it the most valuable American-built car ever sold.
Aston Martin DBR1
Sold by RM Sotheby's for Rs 156.62 crore ($22,550,000), August 2017
Aston Martin built just five DBR1s and this one was the first. Raced by the likes of Roy Salvadori, Stirling Moss, Jack Brabham, and Carroll Shelby, among others, DBR1/1 won the 1959 Nurburgring 1000KM and was the sister car to the DBR1 that won Le Mans in that same year.
1964 Ferrari 275 GTB/C Speciale
Sold by RM Auctions for Rs 183.36 crore ($26,400,000), August 2014
The standard Ferrari 275 GTB is already massively sought after, but this is just one of three works-prepared Competizione editions to be produced. This one was a matching-numbers car with its entire history documented.
1967 Ferrari 275 GTB/4*S NART Spider
Sold by RM Auctions for Rs 191.01 crore ($27,500,000), August 2013
With just a single owner from new, this Ferrari 275 GTB/4*S NART Spider was one of 10 NART Spiders built. It was bought new by a rags-to-riches trader called Eddie Smith, the car's complete history was known.
1956 Ferrari 290 MM
Sold by RM Sotheby's for Rs 194.82 crore ($28,050,000), December 2015
This very Ferrari 290 MM was driven by Fangio in the 1956 Mille Miglia (coming fourth overall) and it is a fully documented example. The car comes with the most incredible racing history; a massive sale price was assured.
1954 Mercedes-Benz W196
Sold by Bonhams for Rs 205.59 crore ($29,600,000), July 2013
Mercedes built just 14 examples of the W196. Of the 14 Examples, only 10 survived, with the company owning six examples and three are in museums, leaving this unit as the only W196 available to private collectors.
1957 Ferrari 335S
Sold by Artcurial for Rs 248.04 crore ($35,711,359), February 2016
Built in 1957, This Ferrari 335S was first driven by Peter Collins and Maurice Trintignant in the 1957 Sebring 12 Hours, then by Wolfgang von Trips in the Mille Miglia. Mike Hawthorn drove the car in the Le Mans 24 Hours and this car also competed in a variety of other high-profile races around the world.
1962 Ferrari 250 GTO
Sold by Bonhams for Rs 264.73 crore ($38,115,000), August 2014
The ultimate acquisition for most collectors, just 39 250 GTOs were made and they very rarely come up for sale. So when this Ferrari 250 GTO came up for auction, it was always going to achieve a spectacular price – especially as this example had been owned by the same family for 39 years.
1962 Ferrari 250 GTO
Sold by RM Sotheby's for Rs 336.20 crore ($48,405,000), August 2018
What you see here is the most expensive car ever sold at auction. An original 1962 machine, chassis 3413 left the factory as a Series I example, before gaining ultra-rare Series II coachwork in 1964. It went on to enjoy a successful racing career, competing in 20 races finishing every one of them, before retiring from racing and entering a chain of ownership that can be traced right through to its newest custodian.