Buggy Time, You will love this concept!
I can see what 300 is getting at, there is room in the motoring landscape for everything and I rebel against the perception that motoring nirvana is only available via the price lists of German manufacturers and directly related to how far up it. you go, I have seen beauty and value in many strange places, this may actually be quite good fun but I suspect mostly its a leaky shed that smells like a garden shed on a hot day.
I am not that into the image if I am honest but this is a willfully odd and pretty ugly, despite my lack of ego I would rather be seen getting out of a Sheep.
This car needs a mad seventies uncle to be brought forward in time in a kind of "Life on Mars" Scenario, he will arrive replete with brown cords, rally jacket and a British Airways shoulder bag, rocking a mad hairstyle and some shades he could fight crime in 2011, criminals rendered unconscious by one look at that interior, "Fire up the Hornet".
I will always have a soft spot for the Nova but yes, as has been pointed out already in this day and age the body is writing out cheques that the drivetrain can't cash.
Still, to be fair, it's had a good few cinematic outings – Cannonball Run 2, Death Race 2000 and Condorman (with Michael Crawford!). If you can get your blinkers off long enough to forget about the Beetle floorpan…for a 40-year-old design (yep largely unchanged since 1972) it's still a very pretty shape.
P.S. The Sterling, as it's known in the USA, is available over there with tube chassis and Scooby mid-engine power…
Love the high-quality cinematic references, pretty much tell's you all you need to know TBH. I assume it was used at the time as the shape of it was "WOW", but it was very cheap to buy and replace if crashed.
The shape itself is not all bad but is in reality just a load of idea's pinched from other famous cars of the period in an attempt to elicit the reaction "How does Ken from the Post office afford that Ferrari", and hope no-one notices the Q plate and 4cyl drone in the process.
I'm trying to save a few bucks and build a home-brewed clutch rather than buying a converter… Problem is it smokes the belt every time i try using it. looking for any screw ups you'll may see in the design
This is just a guess but it doesn't seem like the front pulley would squeeze the belt.
On top of that, I would guess you're not getting the ratio right, the front pulley on a stock set up would increase the ratio as the pulley pulls together.
You need the correct driven clutch and correct belt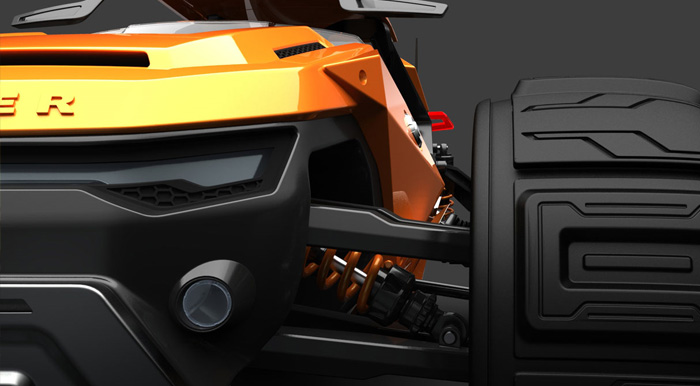 Oh dear, the blinkers didn't even move did they? Yes, of course, everything designed around then was completely original and didn't borrow anything from anyone else I mean the "wow" factor lifting canopy they stole from….er…..no Lambos scissor doors were later weren't they. If it owes anything to anyone it would be Dennis Adam's Probe 2001 (never heard of it you say?). Interestingly you're only looking at this from the mass-produced angle. BTW Why would it have a Q plate? It retains donor V5 and even in these days of IVA it wouldn't need one cos the floorplan is untouched – a one donor solution (which is exactly where our kit car industry is heading back to)
Don't worry, I get it, you think it's suck – especially because of the Beetle base and pretentions toward affordability.
Finally, I am outraged that you insinuate that builders may attempt to pass their cars of as something else!