Best Cars Geneva Motor Show 2018
Geneva was huge this year and ran the gamut from supercars for oil-rich playboys to everyday SUVs to more and better EVs and plug-in hybrids. Geneva has the advantage of being the first major auto show of the year, give or take Detroit. And Detroit is losing cachet as international automakers realize Michigan is not a place where you sell many foreign cars. Mercedes-Benz spent a million dollars, more or less, to launch the new G-Wagen, and then pulled the plug on 2019 participation at Detroit.
But you're not here for the inside baseball — you're here for the cars. Here's our take on the best new cars of the 88th International Geneva Motor Show, with the focus on mainstream cars and crossovers.
Subaru fans argue whether the Subaru Viziv Concept Tourer is the next Outback or a WRX wagon. We say it's Subaru's plan for circa-2020 autonomy, with "further enhancements to EyeSight driver-assist technology, radar, and highly accurate GPS and navigation systems." This may be when Subaru shifts Eyesight from stereo cameras to radars (or supplements with radar) for longer range.
The Mercedes-Benz A-Class finally comes to the US, giving us a sub-$30K Benz once again. But: We get the sedan (left), not the more useful, better-looking hatchback-almost-crossover. US gets a 2.0-liter four (221 hp); a 400-hp AMG is pending. It gets the Harman/Mercedes MB UX, or Mercedes-Benz User Experience interface. Say "Hey, Mercedes" to interact.
The refreshed 2018 Audi A6 gets four-wheel steering: The rears toe in or out for faster cornering, smoother lane changes, and a turning circle three feet less. The V6 engine shifts from a belt-driven supercharger to an exhaust-driven turbo. A turbo-four hopefully keeps the US list price just below $50,000. It will have Audi's virtual cockpit (dash) and a gorgeous physical cockpit.
The Volvo Polestar 1 plug-in will have the best range of any brand: 93 miles on battery driving two electric motors before the turbo-four kicks in. The company's performance brand is expanding to focus on electrification and technology. Come 2019, you'll subscribe to — not buy — a Polestar 1, and transactions will be online rather than at dealers. We assume dealers will get a cut, as otherwise, war will break out.
Lexus blows away the competition (on sales) in small and midsize SUVs, so why not do a subcompact for millennials? The new Nexus UX, at 177 inches, is just six inches shorter than the Lexus NX. It will have a 168-hp four-cylinder engine with a hybrid optional. Price will start under $40,000. First cars should be on sale at the very end of the year. And yes, it has the polarizing spindle grille.
Audi debuted its e-Tron EV crossover prototype at the Geneva show and on city streets, generating social media buzz. Three electric motors deliver 320 kW/429 hp. The 95-kWh battery pack is expected to get 310 miles on Euro cycle testing, and somewhat below 300 miles using EPA measurements. Built in Brussels, European shipments start late this year; the US, probably a year from now.
Hyundai's quickly popular little Kona (164 inches long, versus 176 inches for the Ionic EV) gets two EVs: 300 km/186 miles (39.2 kWh battery) or 470 km/292 miles (64 kWh battery). Pre-Geneva, Hyundai twitted Tesla with billboards in Europe: "Your turn, Elon. The first electric compact SUV is here. Hyundai."
The production-ready, two-row 2019 Hyundai Santa Fe (nee Santa Fe Sport) and three-row Santa Fe XL (what used to be Santa Fe) are first with Hyundai's new design language such as the cascading grille. Standard safety tops Honda and Toyota: full-range adaptive cruise, lane keep assist, blind spot detection, surround view monitor, and rear cross-traffic alert. The Santa Fe is 187 inches long, up 2 inches.
The
Hyundai Le Fil Rouge concept
marks a new direction in design, apparently moving on from fluidic sculpture design. Elements of the design use the aesthetically pleasing golden ratio (1.62:1). The car is 4500mm long or 177 inches (same as the Elantra). Elements will show up in future cars, such as the cascading grille. The concept is upscale, but Hyundai says it remains firmly mainstream.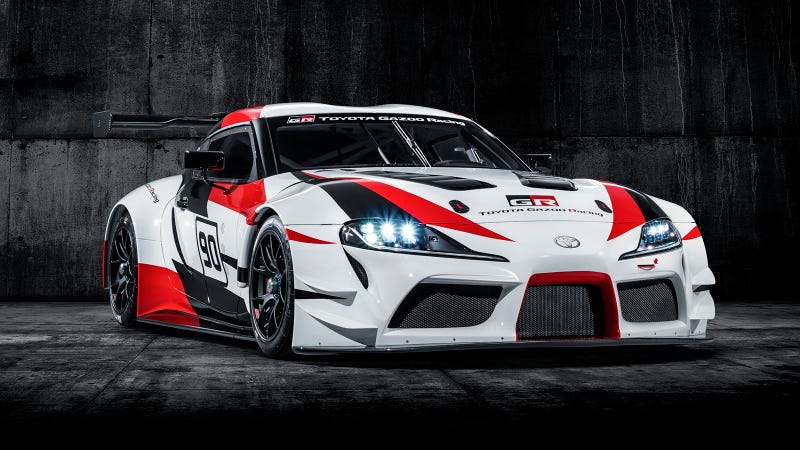 Underneath the race car skin of the Toyota GR Supra Racing Concept, fans hope lurks some common parts that will go into the next Toyota Supra sports car, and which will be shared by the next-gen BMW Z4. The street versions should be unveiled, maybe go into production, this year. Neither company can make a buck building their own, but together they hope to sell 60,000 plus a year.